Borders rail link: Final phase of track laying under way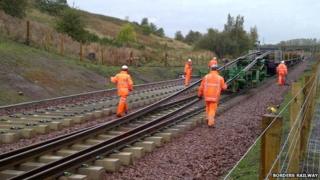 Work to complete the final phase of track-laying for the rail link between the Borders and Edinburgh has begun.
The line between Tweedbank and the capital is due to open to passenger trains on 6 September.
About 34 miles of track, including three double track sections, has been laid since work began at Shawfair station in October.
The rail installation machine is expected to reach Tweedbank in February.
Network Rail project director Hugh Wark said the final phase of works will see the last five miles of the route from Ferniehurst to Tweedbank completed.
He added: "Once the rail is fully installed, much of the construction support deliveries will be able to be taken off the roads and delivered directly down the route by rail.
"This means that residents and road users should see the number of heavy goods vehicles and plant machinery on the roads reduced in the coming months.
"We still have a lot of work to carry out ahead of the project's summer completion date, but we are at a very exciting point in the project with only eight months to go until the line is fully operational."
Seven new stations will be built along the length of the 30-mile stretch of railway.