Dumfries youth leader 'Stoney' Smith to be honoured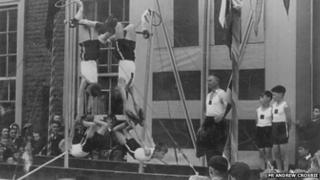 A youth leader could be honoured in his home town of Dumfries, more than 40 years after he died.
John "Stoney" Smith ran clubs for young people from the 1940s until his death in 1973.
Hundreds of girls and boys went to the Bordereaux Health and Strength clubs to learn gymnastics, athletics and boxing.
Now plans are under way to put up a plaque in memory of the legendary local figure.
David Crosbie, 77, who joined one of the clubs as an 11-year-old in 1949, has spearheaded the campaign to recognise his mentor.
He said Mr Smith, who was nicknamed Stoney because he was "hard as a rock", ran the club on a completely voluntary basis.
'Deserves a medal'
Mr Crosbie, a retired construction worker, said: "He trained us to perform gymnastic displays all over the south west of Scotland, and we went to Carlisle and Ayr.
"To do all that for nothing, I think he deserves a medal.
"He put hundreds of children through his clubs and made them into men and women. It prepared us for adulthood."
Mr Smith worked as custodian at Lincluden Abbey, Caerlaverock Castle and later Dundrennan Abbey during the day before running the clubs at nights.
He set up clubs in Brook Street, Standard Close and two in Lincluden, according to Mr Crosbie.
Loreburn Community Council has applied for £500 from the Dumfries Common Good Fund for the project.