Dumfries bridge windscreen smash driver escapes unhurt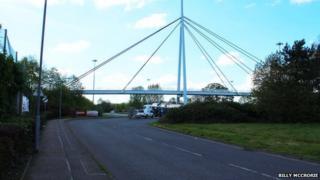 A driver has escaped unhurt after an object thrown from a bridge over the A75 at Dumfries smashed his car windscreen.
The incident happened at the Cuckoo Bridge near College Mains and Lincluden Road at about 21:30 on Wednesday.
A blue Mazda 2 was struck by a "wooden object" which shattered its windscreen.
The driver was able to park his car safely. Police are appealing for witnesses.