David Cameron outlines Borders business support in Hawick visit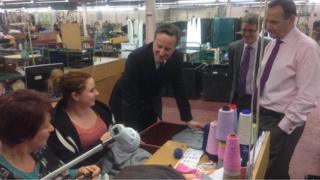 David Cameron has outlined his government's efforts to ensure all parts of the UK benefit from economic growth, during a visit to the Borders.
The prime minister was at Hawick Knitwear on Thursday.
He said there were a number of ways the UK government could "help and support" businesses in the region.
He said an apprenticeship programme had made a "big difference" and that investment in high speed rail would "benefit all parts of the UK".
"We are going to be increasing the capacity and speeds - I think that makes a difference," he said.
He added that the UK government also needed to do more about opening up overseas markets.
"I also think when it comes to things like manufacturing and also, in the Borders, there is a lot of food industry, there is this issue about trade," he said.
Mr Cameron said the government had to send "strong trade missions" to countries that were going to have "enormous demand for British produce and British goods".
"All of these things, I think, can make a difference," he said.
'Out of tune'
Borders Lib Dem MP Michael Moore welcomed the visit but said he hoped it would give Mr Cameron pause for thought.
"Perhaps Mr Cameron will reflect on the importance to knitwear workers, and many others, of Liberal Democrat policies which have cut the tax bills of local people by £800 and helped pensioners with the 'triple lock'," he said.
"And while he is at it, he might now understand why the Liberal Democrats were right to block his plans to give employers the right to fire workers at will and to slash welfare spending.
"Mr Cameron and his Conservative colleagues are out of tune with the needs of our region: they have been late to the table in offering more powers to Scotland and are putting our vital trade links with Europe at risk.
"Following his visit to the Borders I hope those points will be much clearer to him."