Scottish cabinet comes to Dumfries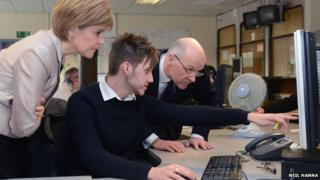 The Scottish cabinet has been meeting in Dumfries as it takes its proceedings around the country.
First Minister Nicola Sturgeon says it is to give ministers an insight into the issues affecting local areas and to let the public question them.
In previous years the cabinet has held summer tours but now plans to meet outside Edinburgh more regularly.
Nicola Sturgeon says she wants her government to be the most open and accessible Scotland has had.
As part of that, ministers will face the public at question and answer sessions - although participants are required to pre-register.
The first minister says views will be heard and result in real action.
The public session is at the Easterbrook Hall in Dumfries following on from the cabinet meeting.
Investments highlighted
Ministers have also been taking part in various site visits to explore transport and housing issues and an initiative to get more skilled young people into dairy farming.
Among the investments they highlighted were:
Some 69 new below market rent homes - with a total value of £9m - now available in Dumfries
£21m to be spent on rebuilding or refurbishing Maxwelltown High School, Dalbeattie High School and St Joseph's College
£67,000 to the Rural Transport Solution project
Nearly £3m to "protect" Dumfries and Galloway residents from the impact of UK welfare cuts
Meanwhile, Scottish Labour leader Jim Murphy and deputy leader, Kezia Dugdale, were holding a meeting with the members of the shadow cabinet in Aberdeen.
They were at Pittodrie Stadium with further events also planned at Aberdeen Royal Infirmary and a range of other venues.