Elmbank School in Dumfries could close under 'learning town' plans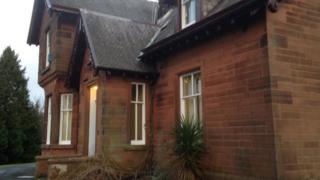 A school for troubled children in Dumfries has been earmarked for closure under new plans.
Dumfries and Galloway Council has proposed shutting Elmbank School, which provides specialist support for children with social, emotional and behavioural problems.
It is part of a wider scheme to redevelop the school estate as part of the Dumfries Learning Town project.
There are also plans to create three new education campuses.
In a report to councillors, education department officers said: "The school estate has been challenged with reducing rolls giving significant overcapacity across Dumfries."
At a meeting of the local authority's education committee, members agreed to a consultation process on the wide-ranging proposals.
The first phase would see the creation of a "learning hub" for north-west Dumfries.
Maxwelltown High School, Lochside Primary School and St Ninian's Primary School would be replaced with one all-through school on a new site at Alloway Road.
Elmbank School children would be catered for at existing secondary schools and at the new learning hub.
St Joseph's College would also be refurbished as part of the initial phase.
During the second stage of the project, a new Dumfries High School complex would be created, which would include a replacement for Noblehill Primary.
Dumfries Academy would also be redeveloped into a campus, including Loreburn Primary.
What do you think of the plans for the Dumfries Learning Town? Get in touch by emailing dumfries@bbc.co.uk or tweet us @BBCSouthScot.