Helicopter rescues snowbound baby near Newcastleton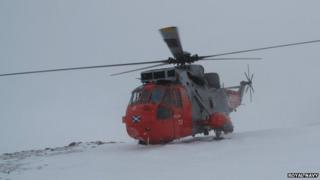 A Royal Navy helicopter has helped to rescue a one-year-old child who took ill while stranded by snow at a house in the Borders.
The alarm was raised by the family at a remote farmhouse at Whisgills near Newcastleton.
A local ambulance became stuck in wintry conditions en route to the child who was described as "unresponsive".
Glasgow's air ambulance could not fly due to heavy snow showers but the Royal Navy airlifted the boy to hospital.
SAR 177's Sea King Mk4 helicopter was scrambled and managed to get through to recover the sick child and his mother.
A local GP, who had been able to fight his way through to the house, had provided "excellent primary care".
On arrival at hospital in Carlisle, the child's condition was said to have improved to "alert".