Big Burns Supper festival in Dumfries sees ticket sales rise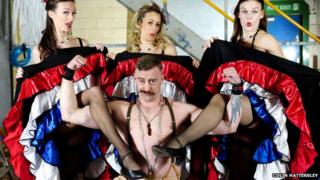 Organisers of the Big Burns Supper festival in Dumfries say ticket sales have already doubled compared with last year's event.
The fourth edition will draw to a close on Saturday with performances by the likes of The Vaselines and Hue and Cry.
More than 10,000 tickets have been sold for a wide range of music, comedy and theatrical events.
This year's festival has been extended to run for nine days compared with just three in 2014.
Overall about 26,000 people are estimated to have taken part in the festival including those who attended free events or participated in a street carnival on Sunday.
Graham Main, Big Burns Supper artistic director, said: "The town has been really buzzing for the whole week and we are really looking forward to our grand finale - it'll be one of the best days of entertainment we have ever laid on.
"It was a big decision to expand from three days to nine but it's succeeded beyond our expectations.
"The doubling of ticket sales has really confirmed our position as one of Scotland's major winter events."