Dumfries and Galloway schoolchildren use bikes to run printers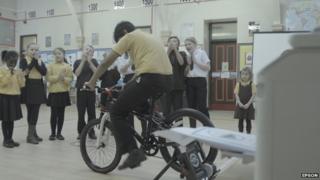 The paper-free office remains, for many of us, a bit of an improbable dream. But it might come a little bit closer if you had to jump on a bicycle and get pedalling every time you wanted to use the printer.
At the very least, it would make you think before you clicked "print" on that 112-page document.
It is a lesson being given to school children right across Dumfries and Galloway, who are using pedal power to produce their paperwork.
As part of a scheme to educate children about energy efficiency, six printers have been hooked up to draw their power from push-bikes equipped with dynamos.
Organisers claim it takes about five seconds of hard pedalling to print one sheet of paper.
The pedal-powered printers will tour all 120 schools in the region.
Schools will be challenged to use the printer bikes in their teaching and to look in detail at issues surrounding energy consumption and the use of printing.
David McKie, a councillor for north west Dumfries, saw the bicycles in action at St Michael's Primary School in Dumfries.
He said the project is a fun way for youngsters to learn about the importance of energy efficiency.
Mr McKie, who also tried out the bicycles, said: "I can assure you that the children will not print out any more than they have to from now on, because it's hard work.
"A key priority for our council is to provide the best start in life for all our children, and we are committed to reducing our carbon emissions.
"So, this exciting initiative offers a win-win situation, linking sustainable energy use and increased physical activity.
"It lets children see just how much of their own energy is required to print a document."
Larann Foss, an education officer with Dumfries and Galloway Council, said: "In our quest to achieve ambitious carbon targets in Scotland, projects like this take us another good step towards our goals whilst having the additional merit of preparing the next generating to be more aware of the environmental challenges we face."