Status Quo to perform at Palmerston Park in Dumfries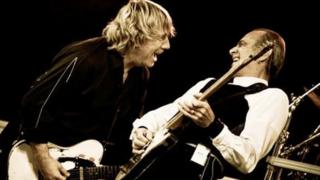 Rock band Status Quo will perform at Palmerston Park in Dumfries this summer.
It will be the first time the home ground of Queen of the South Football Club has hosted a live concert.
Status Quo have had 64 British hit singles, more than any other band in UK chart history.
Club chairman Billy Hewitson said: "We are delighted to have a band of Status Quo's stature for our first concert, but we hope it's the first of many."
He added: "First and foremost the name Queen of the South will be recognised as a football club, but Palmerston Park is an asset that the football club have and we have to utilise the facility."
The concert is being staged in partnership with Dumfries and Galloway Council and Worldwide Events.
Councillor Colin Smyth said: "Having successfully delivered events such as Youthbeatz and world championship sports competitions for a number of years our staff have developed expertise in developing and staging major events.
"We are happy to share our knowledge with partners because events such as this are not only fantastic for the local community to enjoy but they can bring significant benefits to the local economy."
Tickets for the gig on 5 June will go on sale on Monday at 09:00.