Dumfries and Galloway 'sexual' touching teacher struck off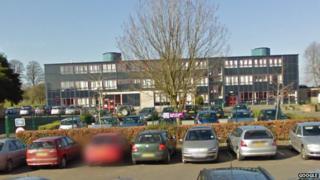 A teacher accused of touching pupils in an inappropriate manner which was "sexually motivated" has been struck off by his professional body.
Gordon Mundie was alleged to have smacked one girl on the bottom and touched another on the leg at Castle Douglas High School.
He denied the claims which dated back to January 2011 and February 2012.
The General Teaching Council Scotland found the complaints proved and ordered he be removed from its register.
The three-day hearing of the GTCS panel heard evidence from pupils, teachers and police officers who had taken evidence from students at the secondary.
It was told Mr Mundie had walked behind one pupil with a coffee cup in one hand when she had felt him smack her bottom.
'Omissions and inconsistencies'
She said it had left a faint mark or bruise and he had had something "like a smirk" on his face after the incident.
Mr Mundie told the panel that he had not smacked the pupil and also denied any physical contact with the student in the second alleged incident.
He said he had been carrying a coffee cup and had tapped the girl with his foot just above the knee to try to avoid her backing into him.
His representative told the hearing there were "omissions and inconsistencies" in the evidence and that the alleged sexual motivation could not necessarily be implied from the actions described.
However, the panel found that both the smacking complaint and that he touched a pupil on the leg had been proved.
'Insight or remorse'
It also concluded that his inappropriate behaviour had been sexually motivated.
The panel said it had concerns that Mr Mundie had shown "neither insight nor remorse" and had not taken any steps to address his behaviour.
It added that the public would be "shocked" if a teacher against whom such allegations had been established was allowed to continue to practice.
"While the panel is prepared to accept that the respondent is a good teacher, testimonial evidence of this kind is insufficient to mitigate the panel's findings of his sexually motivated behaviour," it stated.
The panel ordered he be removed from the teaching register and he could not be allowed to apply to re-register for a period of two years.
It also agreed to refer the case to Scottish ministers to decide if a ban on working with children should be imposed.
An appeal against the panel's decision can be lodged within 28 days.