River Tweed salmon ban comes into force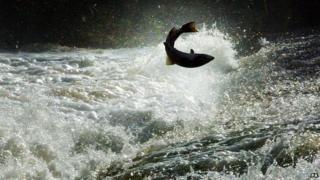 Anglers on the River Tweed have been warned that they face prosecution if they fail to release any rod-caught salmon before the end of March.
A statutory ban came into force this week as the 2015 fishing season got under way on the river.
The new rule states that even if a salmon dies, it must be left in the water and not retained.
It takes over from the voluntary 100% catch and release policy introduced to help preserve salmon stocks.
That was brought in by the River Tweed Commissioners and beat proprietors.
The voluntary ban will still apply to all salmon taken between 1 April and 30 June but sea trout may be killed and retained.
The new measure comes into force after figures showed that catches fell last year with only 4,000 salmon taken during 2014 compared with an annual average of 11,000 over the previous five years.
However, Peter Straker-Smith, owner of the Carham beat between Kelso and Coldstream, said there was no reason to panic and that in the past dramatic falls in catches had been followed sooner or later by recovery.