Rare stencils found in Melrose church under renovation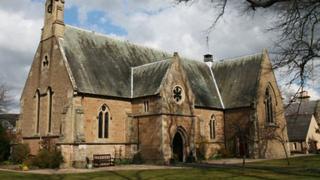 Forgotten rare stencil work has been uncovered on the walls of a Scottish Borders church during renovation work.
Holy Trinity Church in Melrose has been closed to worshippers since June when dry rot was found in the roof timbers.
While the extensive repair work was carried out, the church's rector spotted the intricate designs during evening visits to the church.
As the congregation prepare to return to the church, they hope to draw up plans to restore the stencilled murals.
Some of the designs have already been revived, including a cross design at the back of the church, which was built in 1849.
'Unusual designs'
The rector of Holy Trinity, the Reverend Philip Blackledge, said the stencilling was whitewashed during the World War Two when water-damage meant re-plastering had to take place.
Mr Blackledge said: "I discovered them when going into the church at night.
"With the light shining in a certain direction, it was possible to make out some very unusual designs.
"Some of this has been re-instated in the redecoration, and the stencil work, which is an intricate, flowing pattern of grapes and vine leaves, will continue as a long-term project.
"Stencils were often very 'bog standard' and there are many books of stencilling patterns, but this one seems to be original and unusual for a church."
Worshippers will return to church on Sunday when the Bishop of Edinburgh, the Right Reverence Dr John Armes will rededicate the building to the Holy Trinity.