Tour of Britain to return to Dumfries and Galloway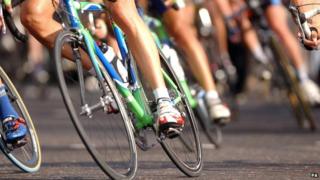 The Tour of Britain will return to Dumfries and Galloway in 2016.
A "high profile stage" of the cycle race will be held in the south-west of Scotland for the first time since 2013, according to the local council.
The development emerged in local authority documents outlining plans for major events in the region over the next two years.
It also revealed that there are plans to increase capacity of the Wickerman Festival at Dundrennan by 5,000 people.
At a meeting next week councillors will be asked to agree to allocate £45,000 to hosting the prestigious Tour of Britain.
It is part of a £250,000 annual funding pot that Dumfries and Galloway Council has set aside for events funding in the region.
'World class events'
In a report to the policy and resources committee, councillors have been told that "confidential discussions" are underway to identify the best locations for the route.
It added: "The detailed work with the Tour of Britain is required to remain confidential at this stage however we can confirm that the region will host a high profile stage of the 2016 Tour, which will create significant economic, tourism and sporting benefits for Dumfries and Galloway."
Councillor Colin Smyth, the local authority's events champion, said: "The fact that we have been able to secure the Tour of Britain back in our region is a testament to Dumfries and Galloway being the perfect location for world class events."
Members have also been told that the organisers of the Wickerman Festival, which is worth more than £2m to the region, believe it could grow to 25,000 people by 2017.
They will be asked to agree to commission a council-led study to review how the public sector could work with the festival to secure enhanced community economic benefits.
Councillors will also be recommended to approve funding for 12 events across the region, including the Eden Festival, World Championship Ice Hockey, Lockerbie Jazz Festival and the Galloway Hills Rally.