FAI hears Selkirk pensioner 'fell like a domino'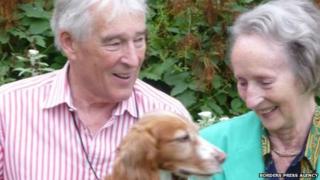 A woman who died after hitting her head while leaving an ambulance at Borders General Hospital fell "like a domino", a fatal accident inquiry has been told.
Fiona Barber, 71, an artist, was going down the steps of the vehicle backwards when she lost her grip and fell on top of a health worker who was guiding her.
He tried to break her fall but Mrs Barber hit the back of her head.
She died two weeks later at the Western General Hospital in Edinburgh.
The accident happened on 21 December 2009 after Mrs Barber was picked up from her home at Lindean near Selkirk, for a routine appointment,
Keith Murray, 52, a patient transport care worker with the Scottish Ambulance Service, told the inquiry at Selkirk Sheriff Court that she walked with the assistance of a four-wheel trolley.
However Mrs Barber, who suffered from rheumatoid arthritis and had various joint replacements, declined to be put on the ambulance using the hydraulic platform.
'Plank solid'
Mr Murray said she had managed the steps at her Bridgelands House home and he held onto her as she negotiated her exit through the side door of the ambulance by holding onto her coat.
Mr Murray said: "She fell plank solid. There was no buckling of the knees. It was a straight motion.
"I tried to break her fall but because of the joint replacements she fell like a domino."
Mr Murray said Mrs Barber glanced her head against the side of the door as she fell before it hit the ground.
Help was immediately called from the nearby accident and emergency department, he said.
Mr Murray said: "I cradled the back of her head and she said 'Help me Keith, help me'."
The inquiry before Sheriff James Farrell continues.