A74(M) lorry crash driver 'serious'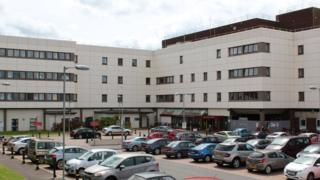 A 68-year-old man is in a serious condition in hospital after his lorry overturned on the A74(M) in Dumfries and Galloway.
The crash - which took place shortly after 04:10 - blocked the northbound carriageway at junction 21, Kirkpatrick-Fleming.
The casualty is being treated in Dumfries and Galloway Royal Infirmary.
Investigations into the cause of the crash are ongoing and it was hoped the road could reopen at 15:00.
Vehicles were being diverted via the B7076 and police said they were patrolling the route to ensure traffic was "flowing safely".
Insp Darren Faulds said: "The significant recovery operation is ongoing and officers have been working since the crash occurred this morning with other agencies, including Transport Scotland and the recovery company to turn the lorry.
"Work is now continuing to secure its heavy load to ensure that we avoid the damaged refrigerated container splitting open and its contents spilling out."