Dumfries and Galloway classroom cuts 'will cost £1.5m' claim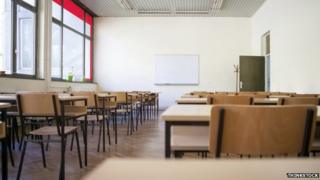 A political row in Dumfries and Galloway over the impact of cuts to learning support posts has led to claims it could cost the council £1.5m.
The authority's minority Labour administration said the service can be improved despite the job reductions.
However, the SNP has now weighed in to say the council could lose £1.5m in education funding if it proceeds.
The administration has insisted there was "no question" of the authority having the funding taken away.
The row centres on the decision to cut more than 50 learning support posts in the region as part of wider measures to reduce council spending.
The authority faces having to save about £32m over the next three years.
The ruling Labour administration has insisted the education cuts can be made without reducing the quality of the service being delivered.
'Total vindication'
It said the SNP was making the latest claims in a bid to detract attention from a Scottish government policy which it said penalised Dumfries and Galloway for having a better pupil-teacher ratio than other parts of Scotland.
Council leader Ronnie Nicholson said the learning support restructure would not see the authority miss out on funding.
He pointed out that the majority of posts earmarked to go were classroom assistants which were not taken into account when calculating the pupil-teacher ratio.
SNP MSP Joan McAlpine has claimed, however, that the decision could cost the council a significant amount.
She said that authorities failing to maintain their existing head count and teacher-pupil ratios would have their share of Scottish government funding reduced.
SNP acting group leader on the council Andy Ferguson said that was "total vindication" of their moves to defer the decision to reduce staff numbers.