Falkirk solicitor admits embezzling at Dumfries firm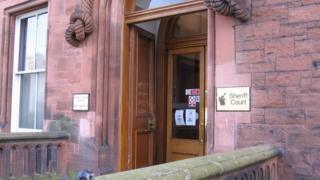 A solicitor from Falkirk has been told he could face a prison sentence after he admitted embezzling £13,000 while working with a Dumfries firm.
Steven Crommie, 37, committed the offence between 2013 and 2014 at estate agents Bell Park Kerridge.
Dumfries Sheriff Court heard all the clients involved had been fully compensated.
The case was deferred for background reports.
The court was told that the firm had opened in Dumfries in 2012 and Crommie had been part of the operation.
Records traced
However, in 2014 another member of staff noted that Crommie had been taking cash from clients which was against the rules and an internal investigation was carried out.
Some of the clients had found it strange that they had been asked for cash, and in one case money had been taken for stamp duty which resulted in the client being pursued for payment.
The court was told that records were traced and full compensation made to the clients involved.
Sentence was deferred until next month.