Dumfries and Galloway Council to remain in Cosla for year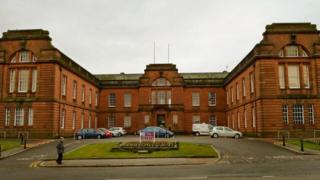 Dumfries and Galloway Council has extended its membership of Cosla by 12 months.
The authority gave notice that it intended to end its £110,000-a-year membership in January 2014.
It has now decided to remain part of the umbrella organisation for another year, but has served notice of its intention to quit thereafter.
Council leader Ronnie Nicholson said he wanted the best for the region which "tends to get neglected" by Cosla.
He said he had been in talks with the group about raising Dumfries and Galloway Council's profile.
"We have decided to stay in Cosla for another year with our notice pending," he added.
"That notice will be based on what happens in Cosla over that year, whether they come up with the goods for Dumfries and Galloway."
He said discussions centred on setting up a forum to ensure that the needs of rural councils were met.
Dumfries and Galloway Council was one of a number of local authorities which gave notice of their intention to quit Cosla, ahead of a review of the organisation last year.
---
Analysis, Jamie McIvor BBC Scotland local government correspondent
Four of Scotland's 32 councils are due to leave Cosla officially in April - Glasgow, Renfrewshire, South Lanarkshire and Aberdeen.
Some others had also given their notice but later decided to remain.
However the loss of four significant councils has implications for COSLA.
This means the organisation will no longer be able to say it represents Scottish local government - it will merely represent the majority of councils.
This is not purely academic.
For instance, it makes it harder for the government to strike national deals with councils.
COSLA and the Scottish government have been engaged in a war of words over funding for teacher numbers.
COSLA and many councils are unhappy the government is threatening to take away cash from any councils which cut the number of teachers.
The government said it would do deals with councils individually if they could not do a deal with COSLA.
It is expected that most councils will accept the funding to maintain teacher numbers although some non SNP councils are unhappy about it.
---