Lockerbie Academy pupils create Spring Fling banner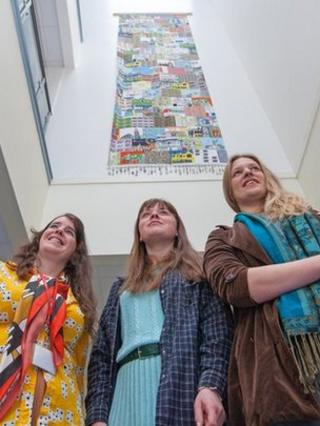 A banner inspired by the buildings of Lockerbie has been created by a group of professional artists and students from the town's academy.
A total of 52 coins designed by pupils and minted using a bicycle-powered foundry were hung from the bottom of the six metre high display.
It was unveiled on Monday, when it was put on display in the school's main entrance.
The project was run by Dumfries and Galloway Council and Spring Fling.
Leah Black, Spring Fling director, said: "It's great that so many young people have had the chance to learn directly from practicing professional artists, and to get to talk to them about their work.
"There were some really talented young people involved and may this experience will inspire them to pursue careers of their own in the art, craft or design."