MSPs call for 'positive' end to Whitesands flooding row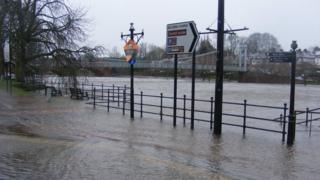 Leading MSPs have called for a row over flood prevention plans for Dumfries to be brought to a "positive conclusion".
At a meeting of the parliament's public petitions committee, they were urged to stop the government funding the £12m project.
The group's convener, John Pentland MSP, said the issue can be resolved positively.
It was one of three petitions raised at the meeting in Dumfries on Monday.
Mr Pentland said: "Tackling flooding is a crucial local issue and the committee strongly believes that the Whitesands situation can still be resolved in a positive, effective way.
"We want to hear more from the local authority on targeted effective plans to combat flooding which can have such a devastating effect on the lives of local people.
"Most importantly, plans for Whitesands are not yet finalised. There is still time to reach a positive solution.
"We are calling on local people and the local council to get around a table and actively engage in working together for Whitesands."
'Direct action'
The committee also heard a call for a review of the regulations for meat rendering plant during the event to mark Parliament Day in the town.
John Thom, a committee member of the crayfish committee for the Ken-Dee catchment, called for a relaxation of the laws to trap American signal crayfish.
The MSPs said they wanted to hear from Scottish Natural Heritage, Scottish Environment Protection Agency and the Scottish government on the issue.
Mr Pentland said: "This is an important, on-going issue that the committee believes has not received the attention or direct action it urgently deserves from a range of organisations, and the Scottish government."