Dumfries drink and drugs teacher can return to classroom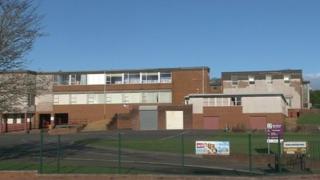 A Dumfries teacher convicted of drink driving and being in possession of ecstasy has been reprimanded and allowed to return to the classroom.
Paul Webley, 62, was a behavioural support teacher at Maxwelltown High School when he was caught driving while four-times over the limit.
He was fined and banned from driving at Dumfries Sheriff Court in July 2013.
Now the General Teaching Council for Scotland has laid out conditions under which Mr Webley can continue to teach.
They issued a reprimand and ordered him to undergo regular drug and alcohol tests, and attend a stress management service.
Their decision followed a hearing in which Mr Webley told the council that his alcohol consumption increased after a series of family difficulties.
'Guilt and anguish'
He discovered his wife of 25 years had been having an affair and his eldest daughter, who was diagnosed with cancer in February 2011, died in August that year.
Mr Webley said that when a friend gave him a pill, he put it in his wallet. It remained there for two years until it was found by police officers.
He told the committee that he had only ever driven while under the influence of alcohol once, when he was at a particularly low point.
Since then he has undertaken counselling and has had no continuing problems with alcohol.
He said he felt "guilt and anguish" that he had let down his pupils but he wanted to pursue the career he loved.
The panel concluded that Mr Webley had shown "genuine remorse" and insight into the effect of his conduct on his duty to be a role model to pupils.
However, they said his behaviour broke the law and called into question his integrity and suitability to be a teacher.