Close encounters in Jedburgh hand ba' clashes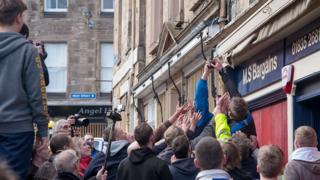 The people of the Scottish Borders town of Jedburgh have taken to the streets for their traditional hand ba' matches.
The event sees the Uppies, from the higher part of the town take on the Doonies, from the lower part.
The aim is to carry a leather ball to a "goal" - for the Uppies, it is towards the castle and over the wall and for the Doonies the goal is the Jed water.
It was a double win for the Uppies this year, 6-5 in the men's game and 5-4 in the boys' clash earlier in the day.