Dumfries and Galloway Arts Festival line-up unveiled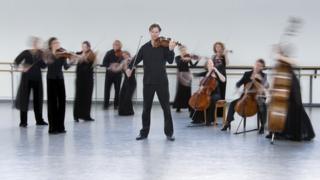 The Scottish Chamber Orchestra and comedian Hardeep Singh Kohli will be among the headliners at the Dumfries and Galloway Arts Festival.
A total of 82 acts will perform at 42 venues across the south-west over 10 days at the end of May.
The event, which is in its 36th year, will also feature performances by the award-winning folk singer Bella Hardy and Scotland's Makar Liz Lochhead.
The programme was launched at Loch Arthur, Beeswing, on Wednesday.
Organisers have pledged to showcase world-class music, theatre, comedy and literature in towns, villages and remote rural areas across the region.
Festival chairman Ken Gouge said: "The range and quality of acts in this year's programme is truly wonderful."
He added: "This year demonstrates that we are continuing to build on the strong reputation of the 36 years of the festival's existence."
The Scottish Ensemble will launch the festival with a classical performance at Easterbrook Hall in Dumfries on May 22.
Other highlights include:
MacMath: The Silent Page. Some of the region's top folk musicians will perform forgotten songs collected by William McMath at the Ryan Centre in Stranraer.
Scottish stand-up comedian Des Clarke.
Dick Gaughan, a folk music guitarist, singer, songwriter, composer and record producer.
Sunny Ormonde, who plays Lilian Bellamy in BBC Radio 4's The Archers.
Reduced Shakespeare company: The Complete History of Comedy.
Dogstar Theatre: The Tailor of Inverness.
Edinburgh-based hip-hop band Stanley Odd.