Designer Hamish Carruthers says textiles are 'thriving'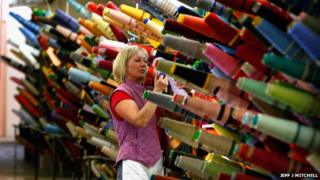 The Scottish textile industry is thriving, according to a leading Borders design consultant.
Hamish Carruthers, an experienced designer who runs a consultancy in Roxburghshire, said more designers are looking for home-grown products.
The shift is benefiting both the Harris Tweed and the Borders knitwear industries, he said.
"It's obviously much smaller than it was but what's left is thriving. Everybody is extremely busy," he added.
Mr Carruthers said: "Harris Tweed has increased the number of people that are involved. They're desperately trying to train more people and the same thing is happening in the Borders with the knitwear industry.
"Since Chanel took over Barrie in Hawick, they have just bloomed and everybody else in the town has also been involved in what's going on.
"It's all about everybody coming back to this country to source their products because China is not a cheap option any more."
He said there are more Scots in top positions in leading design houses who are in a position to choose products that are made north of the border.
Listen to Hamish Carruthers on BBC Radio Scotland's Good Morning Scotland here.