Borders Railway a 'tourism magnet' says VisitScotland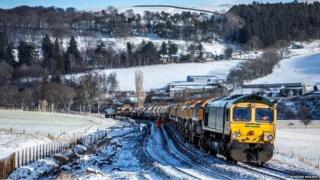 The new Borders Railway could be a "significant tourism magnet" for overseas and domestic visitors, according to VisitScotland.
The tourism agency hopes it will inspire the 3.4 million people who visit Edinburgh every year to explore the Borders.
It has been in talks with councils and businesses to draw up a plan that "brings to life the Borders Railway".
The track will open to the public in exactly six months, on September 6.
VisitScotland said it plans to target potential leisure and business visitors from domestic and international markets, encouraging them to visit Edinburgh, Midlothian and the Scottish Borders.
Tourists will be encouraged to follow in the footsteps of Sir Walter Scott, starting at The Scott Monument and ending at Abbotsford, near Tweedbank, which was once the home of the writer.
'Truly exceptional'
The tourism agency will also highlight the Ridings, the Borders' textile industry and the region's walking and cycling paths.
Chairman Mike Cantley said: "Railway journeys have captured the imagination of visitors for decades, and to be able to present to the world this magnificent new train line which takes people on a journey deep into the heart of Sir Walter Scott country, is truly exceptional.
"With just six months to go until this - the longest new domestic railway to be constructed in Britain for over 100 years - is opened, it's time to focus on how we are going to grasp and develop every single tourism opportunity."
He added: "The Borders Railway is a new adventure for visitors to Scotland to experience and we look forward to welcoming visitors to this impressive new attraction."