Price of Kirkcudbright Art Gallery set to increase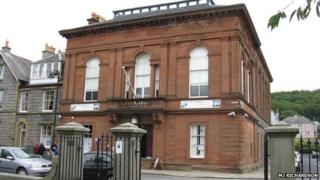 The cost of setting up a major art gallery in Kirkcudbright is set to rise again.
Dumfries and Galloway Council has already pledged £885,000 to the project to transform the town hall.
The Heritage Lottery Fund (HLF) has provisionally committed almost £1m to the scheme to create a facility of "national significance".
However a new report has revealed that a number of factors have led to "costs increasing from initial projections".
A project board, made up of local councillors and members of the community group Kirkcudbright 2000, considered three design options for the gallery in January.
Members of the Stewartry Area Committee will be told that the model they chose was the only one that met the brief.
A detailed costing is not yet available but the latest estimate suggests that the price tag will exceed the funding currently earmarked.
The report to the committee said the HLF may increase its financial commitment if it approves the project design but the council would also be required to increase its contribution.