Strictly Come Dancing competitor in meningitis B vaccine call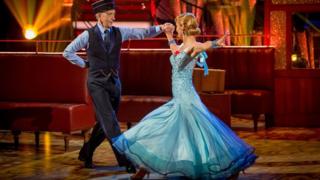 A Dumfries man who competed in The People's Strictly for Comic Relief has made a fresh call to speed up the introduction of a Meningitis B vaccine.
Michael Pattie missed out on the title with partner Aliona Vilani.
However, he said the competition had given extra profile to a campaign to get the vaccine - approved for use a year ago - brought into use.
Mr Pattie lost his 13-year-old son David to another strain of the disease in 1999.
He has since gone on to raise more than £300,000 for the Meningitis Research Foundation.
He said his experience on the People's Strictly was one he would never forget.
"It was an absolutely amazing experience for a wee guy from a little town in south west Scotland to end up on the Strictly dance floor," he said.
"Nailing the dance was a big highlight - our afternoon dress rehearsal was a disaster."
The retired businessman said although he did not win the title - that honour went to former Royal Marine Cassidy Little - he felt he had helped to promote the MRF.
"I wanted to do this for so many different reasons and so many different people but one of the main ones was to raise the profile of my charity," he said.
"We have had the new Meningitis B vaccine for over a year now and it has been sitting on a shelf after 20 years of research and fundraising to get it.
"The Department of Health and the drug company can't agree a price.
"Lives are being lost as we speak - we can't allow the holy grail to be sitting on the shelf and not being used."
The situation has prompted the #WheresOurVaccine campaign, which Mr Pattie said the Strictly Come Dancing stars had been happy to support.
'Absolutely brilliant'
"The exposure that the MRF have had through my appearance on Strictly has been absolutely brilliant and it couldn't have come at a better time," he said.
"Once anybody hears what is happening and that this vaccine is sitting there they all just say 'That is not right, we cannot let this happen'.
"Every single one that I have asked to come on board our campaign has said a big 'yes' and helped us out."
A number of the stars of Strictly Come Dancing have appeared on Twitter in selfies with the #WheresOurVaccine message.
MRF Scotland manager Mary Millar said Mr Pattie had "worked tirelessly" for the cause.
"Michael's appearance and popularity on The People's Strictly has done so much to raise awareness of meningitis in general, and given weight and exposure to #WheresOurVaccine in particular," she said.
"Even throughout the stress and pressure of appearing on the programme, Michael had it firmly in his sights why he was there - as well as helping raise funds for Comic Relief, he wanted to raise awareness of meningitis.
"To this end, even behind the scenes, he was enlisting support and publicity for #WheresOurVaccine, by asking everyone he came across to help promote the campaign."
A Department of Health spokesman said talks were ongoing to resolve the situation.
"We are very clear that we want to see this vaccine introduced as soon as possible to help protect children from this devastating disease," he said.
"The Joint Committee on Vaccination and Immunisation recommended that a MenB vaccine be introduced, but only at a cost-effective price — below the price published by Novartis.
"We need to make sure NHS funds are used effectively and negotiations are continuing."
A spokesman for GlaxoSmithKline (GSK) confirmed it had recently bought the vaccine involved.
"GSK acquired Bexsero as part of the recent transaction with Novartis and will be continuing discussions with government," he added.