Former Douglas Ewart High School teacher struck off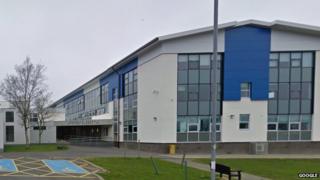 A teacher who submitted false records on behalf of pupils studying higher biology at a south of Scotland secondary has been struck off.
David McCallum handed in work by a previous class while working at Douglas Ewart High School in Newton Stewart.
He also persuaded pupils to sign off the work as their own without their knowledge of what he was doing.
Two other complaints were found not to have been proven but a panel ruled Mr McCallum was no longer fit to teach.
The charges dated back to the 2012/13 school year at the Dumfries and Galloway school.
Mr McCallum submitted false records for four pupils to the Scottish Qualifications Authority using the work of a previous class.
He also got the students to sign off the work as having come from them without letting them see the contents of what they were signing.
'Dishonest manner'
A General Teaching Council Scotland panel found he had also made false statements to a disciplinary investigation.
However, it ruled that two further complaints of telling pupils there was insufficient time to complete some work and recording pass marks on work which had either not been marked or should have failed were not proved.
The panel concluded he had acted in a "dishonest manner" toward pupils, employers and the SQA.
It accepted he had been under "severe stress" at the time but said written submissions did not show "any remorse or insight" nor any steps to address the issue.
It said he had fallen "significantly short" of the standards expected of a teacher.
He was ordered to be removed from the GTC Scotland register and has a right to appeal against the decision within 28 days.