Maori war flag at Hawick museum could be repatriated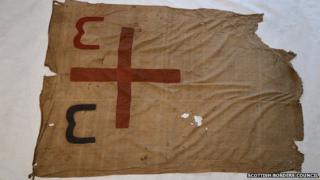 A Maori war flag that has been held in the collection of a Scottish Borders museum for more than 90 years could be repatriated.
A museum in New Zealand has made an official approach to Hawick museum for the flag, taken from a Maori tribe by Crown forces during a battle in 1865.
Their bid is supported by descendents of key figures involved in the Battle of Omaruhakeke.
Members of Scottish Borders Council will be asked to approve the move.
The battle was part of the New Zealand Wars, which saw Maori communities divided. Some sided with the Crown and New Zealand government against others who wanted to maintain their independence.
The request for the flag by Wairoa Museum in Hawke's Bay on New Zealand's North Island was accompanied by four letters from descendents of Maori leaders.
'Genuine resolution'
They said the return of the flag could be a powerful symbol for the resolution of 160 years of social, economic, political and spiritual turmoil for the Maori people in this area of New Zealand.
One, from Nigel William How, said: "We live in a time where the ghosts of the past are now being laid to rest through the Treaty of Waitangi settlement process.
"This is not only between Crown and Maori in general, but also between Maori ourselves in acknowledging and embracing the difference decisions and actions our ancestors took.
"Genuine resolution of all these matters has been a long time coming."
The flag was donated to Hawick Museum by local artist Tom Scott in 1921, but it is believed to have only been on display a handful of times since then.
'Long-standing grievances'
It was presented to him by the Secretary at Government House in Hawke's Bay but the reason for the gift is unknown.
Councillor Vicky Davidson said: "There is no good reason, apart from Mr Scott's connection to Hawick and the Scottish Borders, for the flag to be part of the local museum collection.
"There is a strong spiritual, social and political case for the flag to be repatriated to New Zealand, where descendants of those involved in the 1865 battle believe it will be a powerful symbol in resolving long-standing grievances between the Crown and Maori, and between Maoris themselves.
"We have been assured that this artefact will be carefully conserved, displayed and interpreted in the museum and I hope my fellow councillors will support the repatriation of the flag."