Plans to cut members from south of Scotland councils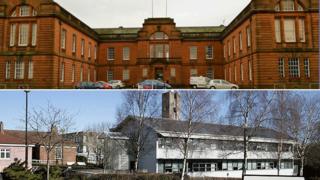 The south of Scotland could lose six councillors, under plans drawn up by the Local Government Boundary Commission for Scotland.
It has proposed that Dumfries and Galloway Council reduces its membership to 43, four fewer than current levels.
Scottish Borders Council should have 32 councillors, rather than the 34 that currently make up the authority.
The commission has begun discussions with councils ahead of a public consultation later this year.
In the Borders, the changes would affect Hawick and Jedburgh, which are currently served by six members over two wards.
Under the new plans, a single four-member ward would be mainly focused on Hawick.
Nearby communities like Denholm, Newcastleton and Bonchester Bridge would be part of a new three-member Jedburgh, Denholm and Hermitage ward, covering a large area from north of St Boswells to the border.
Minor alterations have also been proposed for the Selkirkshire and Kelso wards.
Details of the proposals for Dumfries and Galloway Council have not yet been revealed.
The commission expects to make its recommendation to Scottish ministers by May 2016 and the resulting wards will be available for the local government elections in May 2017.