Spectacular views of the eclipse in southern Scotland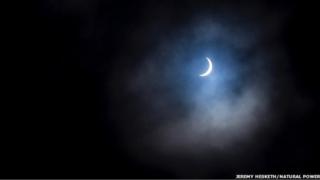 Hundreds of people enjoyed spectacular views of the solar eclipse in the south of Scotland.
Forecasters had predicted that cloudy skies would obscure the view for many in the region but the clouds parted for crowds at Dumfries Museum.
At least 50 people congregated outside the building to witness the progress of the moon in front of the sun.
Many of them viewed the spectacle through special glasses, while others brought home-made pin-hole viewers.
As the moon passed over the sun at 09:35, observers noticed that it became cooler and darker.
Others watched the eclipse at the Riverside car park in Newton Stewart.
Among them was Antony Berretti, of the Galloway Forest Astronomical Society.
He said one mother told the group that her son had excitedly jumped out of bed at 06:00 and shouted: "It's the apocalypse today".
Mr Berretti said: "We all burst out laughing."