Borders to Edinburgh railway 'golden ticket' up for grabs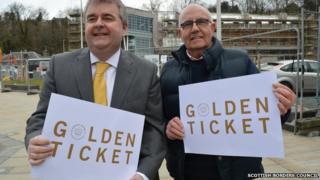 A competition giving Borderers the chance to nominate a deserving person for a special journey on the Borders to Edinburgh railway has been launched.
The golden ticket will see members of the public given the chance to ride on a train on Saturday 5 September - the day before regular journeys start.
Scottish Borders Council is looking for nominations of people from all walks of life and all ages across the region.
Ticket winners will get the chance of a trip on the special train.
Railway services through the central Borders to Carlisle were cut in January 1969, despite a hard-fought campaign by locals.
However, from September they will be restored along part of the old Waverley route.
An opening ceremony for the new line from Tweedbank to the capital is being held on 4 September.
Golden ticket winners will make their journey along the route the following day while regular services should start on 6 September.
'Unique experience'
Scottish Borders Council leader David Parker revealed the plans for the competition.
"I can promise that golden ticket holders will have a unique experience," he said.
"I am very keen to encourage applications from right across the Borders and from all walks of life, so that a wide variety of people from our region are rewarded for the tremendous things that they do."
Also launching the scheme was the first recipient of a golden ticket, David Romanis.
His father, Herbert, worked on the Waverley line for 47 years, and he wrote to then Prime Minister Harold Wilson, among others, to ask for the line to be saved from closure in the late 1960s.
"When the Waverley line was under threat, I wrote to Her Majesty The Queen, Downing Street, Minister for Transport Richard Marsh who authorised the closure, the County Council and the local Provost to try to persuade them to save the route, but to no avail," he said.
"However, it is fantastic to see trains ready to return to the Borders."
Anyone seeking to nominate an individual can do so by visiting www.scotborders.gov.uk/goldenticket or SBC's Facebook and Twitter pages and submitting the nomination form by Friday 29 May.
Nomination forms will also be available at all council contact centres and libraries.