Large Lauder lamb could be Scottish record breaker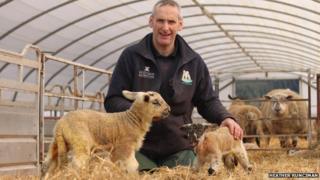 A large lamb born on a farm in the Scottish Borders could be the heaviest recorded north of the border.
The Texel cross ewe at Huntington Farm near Lauder tipped the scales at 22lb (nearly 10kg).
It was handed over to farmer Dougie Runciman at about 05:30 and is more than twice the size of an average lamb.
Earlier this month a lamb born in north Wales weighed in at about 24lb 2oz (11kg) and was thought to be the largest in Britain.
Mr Runciman's wife Heather said: "They came in for breakfast and all the talk was about the size of this lamb which had just been born.
"Normally we don't weigh the lambs but on this occasion we had to.
"I also took a picture to compare her to an average-sized lamb which comes in at around seven pounds."