Scottish Borders Council social care switch completed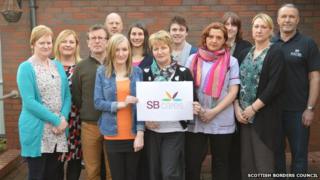 Care services for vulnerable adults in the Borders have been transferred to an arm's length organisation in a bid to help save £5.6m over five years.
About 800 staff are involved in the switch to new company SB Cares.
Among the services it will provide are homecare, residential care homes, extra care housing and day services.
Scottish Borders councillor Frances Renton said it was a "significant milestone" for staff, service users and the local authority.
The decision to make the transfer was agreed last year.
Ms Renton said the council was venturing into "new territory" with the move but said she was confident it was in everyone's best interests.
She said service users would continue to experience the "same high standards of support" as they had previously received.
SB Cares managing director, Philip Barr, said there was a "real sense of excitement" among staff and the management team.
'Excellent services'
"Our intention is to put huge emphasis on the quality of our care and the quality of our team," he said.
"We know that it is only through great people that we can deliver a great service.
"We are ambitious for the success of SB Cares.
"We are starting with a range of excellent services but this is our opportunity to build on these standards and make sure that we deliver the services that fully meet the needs of each and every one of our clients."
The council has written to everyone who uses a service that has transferred to the new company to explain how the change will affect them.
It said there would initially be "very little change" apart from a change of identity badge being worn by staff.
Tony Trench, regional organiser with the Unite union, said it had been in talks and would be looking to have further discussions with Mr Barr.
"As a union, we are against anything being outsourced from the council," he said.
"We will have to work with that - but we will defend our members terms and conditions."