Big Burns Supper tackles payment complaint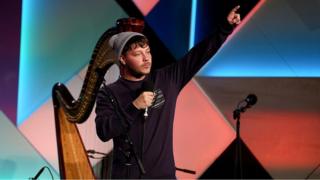 The Big Burns Supper festival says it is taking "immediate action" to address a payment complaint by one of its acts.
Scottish act Hector Bizerk took to Twitter to voice frustration over the time it had taken to pay them for their appearance this year.
They said their payment for the performance at the annual event in Dumfries was two months overdue.
Festival artistic director Graham Main said that due to the number of acts it took "some weeks" to process payments.
Hector Bizerk performed at the Spiegeltent venue specially set up next to the town's Loreburn Hall.
Front man Louie said that after posting the tweet they had received a phone call and hoped the situation could be resolved within days after "two months of completely ignoring us".
He said they had been contacted by "several people" who had worked for the festival in previous years who had suffered "similar problems".
He said that included both technical workers and performers.
Mr Main said he understood the issue was now being addressed.
"Hector Bizerk's performance at Big Burns Supper was excellent and our staff took immediate action when we were contacted," he said.
"With a festival involving more than a thousand artists it naturally takes some weeks to process all the payments.
"However, we do everything we can to take the best possible care of all our performers and hugely appreciate their hard work and dedication.'
The fourth edition of the Big Burns Supper ran over nine days from 23 to 31 January this year.