Vets confirm case of 'horse flu' in the Scottish Borders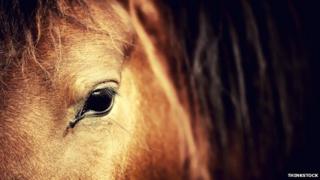 A horse in the Scottish Borders has been diagnosed with equine influenza.
It is only the second time so-called "horse flu" has been detected in the UK this year.
The Animal Health Trust (AHT) said it was found in a six-year-old Irish sport horse which had not been vaccinated against the disease.
The veterinary charity said the mare had a nasal discharge and a frequent cough for four days before diagnosis on 25 March.
Tim Davies of Galedin Veterinary said the horse had been put into immediate isolation and all the other horses in the yard had been vaccinated against the disease.
He said there had been no other cases to date.
Horses usually recover from influenza after a few weeks' rest but old or young animals, or those with a compromised immune system, can be at risk of developing bacterial infections which can lead to pneumonia or death.
'Harsh cough'
A spokeswoman for the AHT said horse owners need to be vigilant and to keep up to date with vaccinations.
She said: "The Animal Health Trust would like to encourage horse owners to be alert for the classic influenza signs, including a harsh dry cough, nasal discharge, pyrexia and inappetance.
"Signs may be mild in vaccinated horses. It is particularly important to be on the look out in affected areas or for signs in horses that have recently been transported or in contact with those that have."
Horse flu was confirmed in a four-year-old unvaccinated mare in North Yorkshire on 10 March.
It affects the nose, throat and windpipe of horses but the disease cannot be transmitted to humans.