Plans to close primary schools in Mouswald and Dalbeattie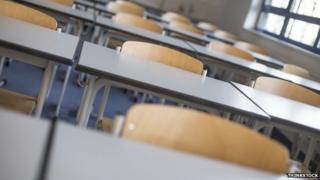 Two primary schools in Dumfries and Galloway could be closed due to dwindling pupil numbers.
Two pupils are enrolled at Mouswald Primary, near Dumfries, while St Peter's Roman Catholic Primary in Dalbeattie has a roll of just four.
Dumfries and Galloway Council has agreed to hold a consultation on plans to shut the schools.
Parents of children at St Peter's have written a letter objecting to the closure plan.
However, parish priest Fr William McFadden said the church recognises "with sadness" that there has been insufficient demand for a denominational school from local parents.
He added: "The numbers attending St Peter's have decreased dramatically so we have to recognise that St Peter's as an individual denominational school may no longer be viable."