Three Longformacus siblings beat odds to share birthday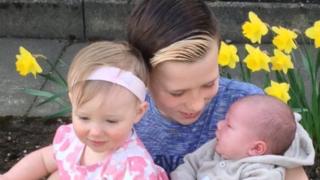 Three siblings have defied odds of 50,000-1 to share the same birthday.
Gillian Miller and Mark Walkingshaw were stunned when son Tom was born on 31 March at Borders General Hospital in Melrose.
That was exactly the same delivery date as his brother Louie, 11, and one-year-old sister Aila.
Now the couple are planning to celebrate next year's triple birthday, and their wedding, on a family honeymoon in the Caribbean.
Ms Miller, 34, a hairdresser from Longformacus in Berwickshire, said: "When Aila was about to be born Louie really didn't want to share his birthday. But that all changed when he saw her.
"And when he found out I was pregnant with Tom he told me that he really wanted Tom to have the same birthday as them."
Mr Walkingshaw, 35, who is on paternity leave from his offshore job said: "We have no idea why it happened like this but what's even more amazing is that both were due on the same date, 24 March, and were both later dates on 31 March."
A spokesperson for William Hill bookmakers said the odds of three siblings sharing the same birthday was in the region of 50,000-1 against.