Kayaker plans paddle round Scotland's lifeboat stations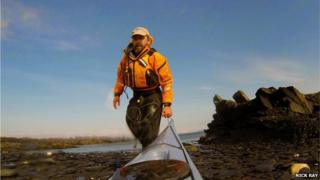 A solo kayaker has made plans to paddle to all of Scotland's lifeboat stations to raise money for charity.
Nick Ray will set off on the 2,015-mile trip on 1 May and expects to take up to four months to complete the challenge.
The 51-year-old will start at Kippford on the Solway Firth and travel clockwise before finishing in Eyemouth in the Borders.
He will visit 47 lifeboat stations on the journey and hopes to raise thousands of pounds for the RNLI.
Mr Ray, who lives in a yacht in a marine at the Isle of Kerrara, near Oban, said his trip is inspired by Brian Wilson's account of his solo sea kayak journey around Scotland in the 1980s.
"Ever since then I have wanted to emulate his adventure and I have held onto the dream of kayaking around Scotland too.
"The idea for this particular trip came to fruition when I read Nicholas Leach's excellent book The Lifeboat Service In Scotland - Station By Station," he said.
"It suddenly occurred to me that it would be an amazing challenge to visit each of the 47 active RNLI lifeboat stations detailed in his book in one continuous sea kayak journey and, in doing so, fulfil my ambition of a circumnavigation of the Scottish coastline."