Homes planned for Dalmarnock Power Station site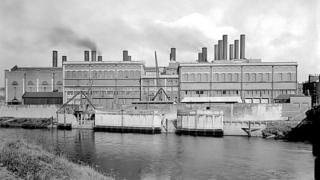 A large housing development is to be built on the site of the former Dalmarnock Power Station in the east end of Glasgow.
Clyde Gateway has sold the 22 acre (8.9 hectare) Dalmarnock Riverside site to Link Group in a deal worth £5.7m.
The deal will see the vacant and derelict site on the banks of the Clyde come back into use for the first time in nearly 40 years.
Link said a total of 550 homes would be built on the site.
The development will include social rented, shared equity and family homes for sale, it added.
The funding for the acquisition by Link was provided by Glasgow City Council.
'World-class transformation'
Lord Smith of Kelvin, chairman of Clyde Gateway, said the new homes would "complement perfectly" the nearby Athletes' Village, which was built for last year's Commonwealth Games before being turned into housing.
He added: "What we are seeing and experiencing here in this area is a truly world-class transformation with the likes of Dalmarnock railway station - which recently underwent an £11m refurbishment - the community-owned Legacy Hub, the Emirates Arena and Sir Chris Hoy Velodrome, the Police Scotland building and the soon-to-be-built nursery and primary schools making an unbelievable difference and fulfilling the legacy promises made when Glasgow first bid for the Commonwealth Games."
Roy Stirrat, chairman of Link Group Limited, said it aimed to deliver a range of community benefits through its development of the site, including up to 76 jobs new to the Clyde Gateway area, which he said would provide a lasting legacy for the Dalmarnock area and the people living there.
Dalmarnock Power Station was, for decades, a landmark structure whose chimney dominated the skyline of the east end.
Enemy aircraft
It was built in 1915 and expanded on two occasions in 1921 and 1935 to meet the ever-growing demand for power across the city.
It was such a strategic component of the city and national economies that it was targeted by enemy aircraft during the Second World War. The power station suffered only superficial damage, but bombs landed on adjacent tenements with the loss of civilian lives.
It closed in 1977 and was demolished in 1980, but such was the strength of the structure that it took three attempts to bring down the chimney in a controlled explosion.
The site subsequently lay vacant and derelict, often used for illegal dumping and fly tipping, before being purchased in 2010 by Clyde Gateway, which spent £3m on decontamination and infrastructure improvements beneath the surface.