Dumfries adventurer Jock Wishart leads North Pole rugby challenge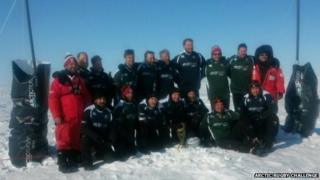 A group of intrepid rugby players - led by Dumfries-born adventurer Jock Wishart - has completed a challenge to play rugby at the North Pole.
Their aim was to play the most northerly game of rugby sevens in the sport's history.
Andrew Walker, from Closeburn, was one of four Scottish players taking part in the event.
The challenge hopes to raise £300,000 for Wooden Spoon, rugby's charity for children.
The match was played a little further north than the exact 1996 position of the Magnetic North Pole.
For the record, Mr Walker and fellow Scot John Houston, from Hawick, were on the winning side - Team Tim - captained by former international full back Tim Stimpson.
They beat Team Ollie - led by ex-England 7s player Ollie Phillips - 17-14 in the seven-a-side match under the scrutiny of official RFU referee Lee Mears, the former England hooker.
The other Scots involved - Fergus Davidson from Edinburgh and Steven Turnbull from Dunblane - were on the losing side.
Mr Wishart, the expedition leader, did not take part in the match.
Also playing were Cheshire-born Paul Jordan, James Harding of Piltdown in Sussex, David Mercer from Northern Ireland, Stephen Henry of Oxfordshire and Julian Phelan from Windsor.
---
For all the news from Dumfries and Galloway and the Scottish Borders throughout the day you can get regular updates from across the south of Scotland on our live page.
---