Borders to Edinburgh railway works enter 'final phase'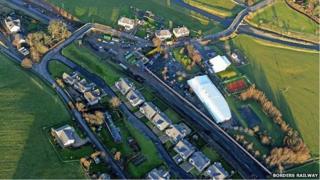 The final phase of earthworks has started ahead of the return of rail services between the Scottish Borders and Edinburgh.
It will see material excavated during construction taken from the Ferniehirst area through Stow to Falahill.
The work will take approximately seven weeks to complete.
Network Rail's project manager Hugh Wark said the works were essential and they would work hard to minimise disruption to the community.
"It is just three months until people board the first Borders Railway train and just weeks until the construction of the railway is complete," he said.
"The works involve the use of HGV vehicles which we are closely controlling.
"We encourage motorists to show due care and attention and thank local communities for their patience whilst this work is underway."
The first passenger trains between Tweedbank and Edinburgh are scheduled to return to operate on 6 September.
---
For all the news from Dumfries and Galloway and the Scottish Borders throughout the day you can get regular updates from across the south of Scotland on our live page.
---