TweedLove bike festival programme unveiled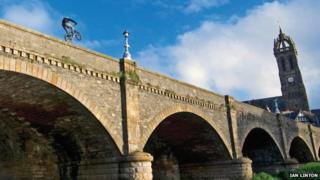 The full programme of events has been unveiled for a two-week biking festival around Peebles and the Tweed Valley.
TweedLove, which runs from 16 May to 1 June this year, says it "embraces almost every aspect of cycling".
The highlight this year is the Enduro World Series mountain bike race.
Organisers said that, with more than 30 other events available, there should be something suitable for either the "elite global athlete or someone who is just learning to ride a bike."
Many of the mountain bike events take place on Forestry Commission Scotland's mountain bike trails in Glentress and Innerleithen.
'Unique community'
Event director Neil Dalgleish said: "There's no doubt this is now a world-class mountain bike destination.
"There's an incredible collection of trails at all standards throughout the Tweed Valley.
"The Forestry Commission have done an amazing job of creating something here which is now forming the backbone of the area's tourist industry and creating a unique community of bike riders.
"There's just nothing like it - anywhere."
Paul Bush, director of events with VisitScotland, said the organisation was delighted to support the Enduro World Series.
"Scotland is the perfect stage for events, and visitors to the region can expect incredible race action, set against the backdrop of the stunning Tweed Valley," he added.