Banana-based outfit among Heriot-Watt student creations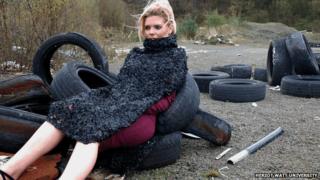 An outfit made of a fabric produced from bananas and waste plastic is to feature at Heriot-Watt University's graduate fashion show.
It is part of a collection of "sustainable garments" which will be showcased at the event.
Students at the School of Textiles and Design in Galashiels have produced a wide range of items.
The fashion show is at Abbotsford House, the Borders home of Sir Walter Scott, on 5 June.
As well as the sustainable items, it will also include a selection of "fully convertible" clothes - such as jackets which can be turned into trousers and skirts which can be transformed into tops.
Another collection in this year's show explores the sensation of going blind with garments which have been laser-cut with Braille messages.