FAI witness saw Dumfries cyclist crash with 'terrible clatter'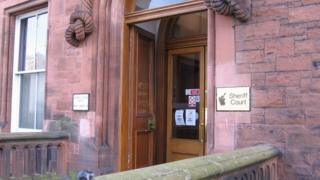 A cyclist fell with a "terrible clatter" after going over a speed bump, a fatal accident inquiry has heard.
Sheila Hyslop, 50, died from serious head injuries four days after the incident on Albert Road, Dumfries.
She was carrying telephone directories on her bicycle when the accident happened in March 2014.
Margaret McColl, 82, told the inquiry at Dumfries Sheriff Court that she saw Ms Hyslop travelling "quite fast" down a hill.
She said: "I just saw the bicycle coming down the hill and she went over the sleeping policeman and she went down with a clatter.
"And I just said, 'Oh my God, that boy's taken a terrible clatter' and I ran over. Of course, it wasn't a boy at all."
Mrs McColl, who lived at Albert Road at the time, said she found Ms Hyslop lying face-down on the ground, with blood pouring out of her head.
'No helmet'
The woman was surrounded by "a lot" of telephone directories and her bike was lying on its side.
Ms Hyslop was not wearing a helmet, but she was wearing a small woollen hat, "Jesus sandals", and a calf-length skirt, the inquiry heard.
"That's when it dawned on me it was a girl, not a boy," Mrs McColl said.
Another witness, Judith Bonn, 74, also told the court what she saw from her parked car.
"I saw a person on a bike going up in the air. All I basically saw was a lot of clothing then someone coming down again."
Neil Fishwick, of Thompson Directories, said Ms Hyslop was allocated two routes to deliver BT phone books when she applied to the firm for temporary work.
Brain injuries
She collected a total of 1,646 directories from a local distribution centre on 4 March and on the day of the accident she had contacted Thompson to tell them she had completed the first route.
Mr Fishwick said it was always made clear to distributors that they needed a car to carry out the work. He said the company had no record that anyone knew Ms Hyslop was using a bicycle to make deliveries.
The court heard that Ms Hyslop was unconscious when she arrived at the accident and emergency department of Dumfries and Galloway Royal Infirmary.
She was found to have multiple haemorrhaging throughout her brain and was transferred to the Western General Hospital in Edinburgh.
She died from her injuries on 14 March, 2014.
The inquiry continues.