School's tribute to pupil Keir Millar killed in stock car crash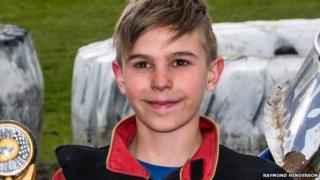 The head teacher of a primary school near Lockerbie has paid tribute to pupil Keir Millar who died after a stock car accident at the weekend.
The 11-year-old died in hospital on Monday following the crash at Lochgelly Raceway on Saturday.
Lynn McAulay-Sharp, of Tundergarth Primary, said he was a "very popular boy who made friends easily".
The head teacher said the thoughts of the school were with his family at this "extremely difficult time".
"He was a gifted athlete and excelled at all sports," she said.
"As the star of our partnership football team he was much admired by his team mates.
"Although a world champion stock car racer, Keir was modest and unassuming of his achievements and was always encouraging towards others less talented."
'Thoughtful friend'
Ms McAulay-Sharp said he showed a "mature and caring patience" particularly with the younger children across the three partnership schools she is in charge of at Tundergarth, Hightae and St Mungo.
"Keir was a multi-talented boy who was a perfectionist in all he turned his hand to," she added.
"He was always willing to have a go.
"He was a reliable and thoughtful friend and the loss we are feeling across the school communities of Tundergarth, Hightae and St Mungo reflects the positive impact Keir had on all our lives.
"We will remember Keir as the boy who rose to any challenge, always with a smile on his face."