'No evidence' that pothole caused Dumfries cycle fall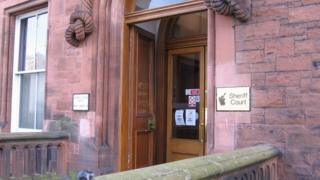 A police collision investigator has told an inquiry that a cyclist fatally injured in an accident in Dumfries is unlikely to have hit a pothole.
PC Stephen Kerr said he could find no evidence that Sheila Hyslop cycled through the hole before the fall.
The 50-year-old died four days after falling from her bike in March 2014.
The fatal accident inquiry at Dumfries Sheriff Court has heard that she was carrying about 80 phone directories on the bike when the accident happened.
PC Kerr said he did not carry out a full police collision investigation as they were not aware of the extent of Ms Hyslop's injuries.
Instead, he measured a pothole at the scene in Albert Road and examined the bike.
PC Kerr said: "One of the things I did check for was to make sure they [the bike's tyres] were inflated or for any nicks which would indicate whether it collided with a pothole. I could find no evidence of that."
He added: "My opinion is that the amount of phone directories that were being carried would contribute."
'Poor condition'
The inquiry heard that it was likely Ms Hyslop was carrying an unsecured box of phone books on the front of her bike.
"There's quite a bit of weight over it and if it's over the front wheel it would affect the handling of the bicycle, " PC Kerr said.
"If any of them were to fall off or start to lean over, it would affect the balance as well."
Giving evidence earlier, PC Ryan Fingland told the court that he was asked to ride Ms Hyslop's bike shortly after the accident.
He said the box containing phone books was wedged between the handle bars.
"When moving the bike onto the road, it was difficult to manoeuvre because the load of directories made it top heavy."
He added: "When I attempted to stop I noticed that the brakes were in a very poor condition. The back brake exerted almost no pressure at all and the front very little."
Paramedic Louis Stanovic, who treated Ms Hyslop, said he found her lying in the road, still attached to her bicycle.
"One leg was under the bike, the other was where the pedal was," he said.
Ms Hyslop suffered serious head injuries in the accident.
She died at the Western General Hospital in Edinburgh on 14 March 2014.
The inquiry continues.