Scottish Borders Council back plans to re-use graves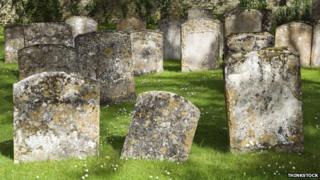 Plans to re-use old graves have been backed by councillors in the Scottish Borders.
Corpses would be exhumed and reburied at a deeper depth, under proposals put forward by the Scottish government.
In a move which could ease pressure on cramped cemeteries, more bodies could then be added to the same grave.
Lairs which are partially full could be dug up after 25 years while those which are full could be re-used 75 years after the last burial was made.
The government consultation document also proposes that the sale of lairs in perpetuity should end.
Instead, graves should be available for a limited tenure of 25 years, which could be extended in 10 year periods.
Scottish Borders Council agreed to the proposals but councillors said it was "essential" that historical burial lairs, particularly those dating from the 18th and 19th centuries were maintained.
Councillors warned that it could affect ancestral tourism, hindering the growing number of people visiting the region to trace their family tree.