Dumfries and Galloway Council keeps lid on bin cost rise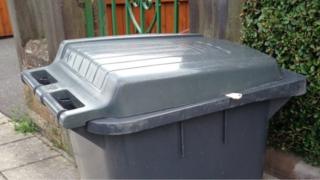 Dumfries and Galloway Council has declined a request to put a figure on a "significant increase in costs" for a new multi-bin waste collection system.
Last month the authority flagged up the situation with the service which was introduced in Wigtownshire last year.
Higher participation rates than anticipated and slow collection speeds were blamed for the cost increase.
However, a month later it has still been unable to specify exactly how much running the new system has risen.
Dumfries and Galloway Council used to run a single wheelie-bin system thanks to an Eco Deco plant which separated waste so householders did not have to.
'Thoroughly reviewed'
New regulations prompted the council to move to the multi-bin system with five new recycling containers issued.
It has promised to learn the lessons from the introduction of the scheme in Wigtownshire before extending it elsewhere.
A request by the BBC Scotland news website nearly a month after the cost rise warning failed to produce any figure on the extra expense.
"The household waste and recycling collection service in the Wigtownshire area is a new scheme and as such will be thoroughly reviewed from an operational and financial point of view," a spokesman said.
"The outcome of this review will be reported to elected members in due course.
"The review process will also help inform the future schemes to be rolled out across the rest of the region."